The last time I got my haircut was about 3 months ago, right before going on vacation. I grew my hair for 3 months and refused to cut it because I wanted to get something awesome like a bowl cut or one where the hair would come down my face(in other words, your average far-Asian hairstyles).
I decided in the end that I wanted something like this(without the lines obviously):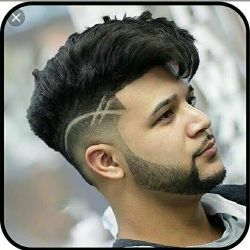 The hair was still long and it wasn't short AF like my previous haircuts.
My barber didn't do a bad job but he cut my hair too short and it wasn't what I wanted, yet I think I still look sick! :)
My brother got a better hairstyle than me though. I'm kind of jealous lol